INTERIOR DESIGNERS are fond of antiques; we often collect them ourselves, and are quick to recommend them to clients. Some of our clients love the idea. Mention antiques to some, however, and they cringe, recalling dusty, depressing, cluttered houses of days gone by. What is the reason for a designer's obsession with incorporating antiques into a home? The answer has to do not only with style, but with substance, history and roots.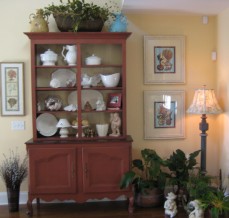 Interior designers and decorators have been seeking antique and vintage furnishings for clients since the beginning of the modern design profession about 100 years ago. Some of the early decorators were wealthy trendsetters, who went into business helping their friends. Not all of the clients, however, were blue-bloods; some were newly rich, and they sought the permanence and pedigree seen in the great homes of the day. These were homes filled with pieces handed down through families, showing a patina earned by years of service.
The newly wealthy, seeking social acceptance, found that antiques were the perfect way to give their new homes the look and feel of a revered family seat. They were also the ultimate one-of-a-kind item, the perfect souvenir to show off exotic travel and demonstrate their education and sophistication.
Antique pieces are not only valued for the way they look, however. On a very old piece of wood furniture, for instance, we can run our fingers over the surface and feel low, smooth indentations where the boards were hewn by hand. We can see the different woods used for drawers, framing, and front panels. Studying the woods used on construction can tell us where the piece was likely made, and sometimes even by whom and when. Look underneath, and you can see that oxidation has turned the unfinished woods a warm brown color that is only achieved over time.
All of these things give us a sense of the story of the piece. Instead of imagining a sad, dusty attic when we learn about antiques, we can begin to imagine our own history. For so many Americans, the details of our history were lost when our families emigrated from Europe or traveled West and left family behind. Through collecting, we reclaim a story our own family may have had; we imagine a settler cutting a huge old-growth tree, sawing and planing the wood by hand, and finishing a table in his own barn. Perhaps the table top is made from just one or two boards, a feat impossible today since such huge trees are long gone.
On a finer piece, a beautiful mahogany wood may indicate without a doubt that a chest was made in England, from wood harvested in the Caribbean, then exported to the Colonies over two hundred years ago. It's a great history lesson to think of the lively triangle of trade that existed at the time, and a thrill to think your chest may have been part of it. It's truly a wonder that so many antiques have survived for so long with daily use.
Every time you pass that chest in the hall, or open a drawer, you feel connected to its former owners, whether they were your ancestors or not. If a piece has significant signs of wear (known as "patina") it will have even more of a story to tell.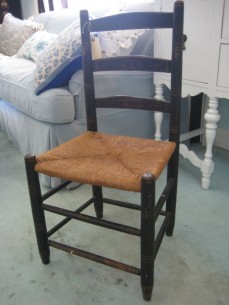 In a farmhouse for example, cleaning required mopping with water which would eventually damage chair legs. Chairs kept for many years (when people couldn't afford to replace them) often had the legs cut shorter to remove rotten wood or a broken rocker, so it is common to find antique country chairs that are very low to the ground. I like to think of them being passed down to the youngest, and eventually ending up on the porch when a new chair came along, where they developed that rich patina of time-worn paint.
Even if they weren't passed down in the family, a collection of antiques and souvenirs becomes an archive of a family's life together. In my own home I have a collection of 19th century plates with scenes in black and white. Lacking a dining cupboard for them, I ended up hanging them all over the walls in our front entry. Each one reminds me of something: a friend long ago, a trip to Paris, an antiquing weekend in Charlottesville, a gift from my husband. So while they have a history that began long before I had them, they are part of our history now too.
Antiques can of course be a good investment; however, not because they are expected to skyrocket in value. Unless you are looking at high-end, museum quality pieces, most antique furnishings are relatively affordable. Modern manufacturing was born over 150 years ago; that means there are literally thousands of cupboards, chests and tables that were mass-produced over 100 years ago and are antique today. They are a good investment because they are solid wood and built to last by skilled craftsmen. Take a walk through a modern-day furniture chain store and unless you are in the most exclusive department, you'll see fiberboard construction with faux-painted wood grain, fake carvings made of resin, and plastic drawer glides. These features look "real" in the showroom, but won't last under wear and tear. For prices not much more than a cheaply made piece of modern furniture, we can often find a vintage or antique piece in very good condition. A little finessing by a good carpenter can ensure that doors and drawers are working smoothly. And if, after several years of service to your family, you no longer need the piece, you can likely sell it for a good price. The same thing can't be said of new furniture today.
An antique is perfect for an area where we want a statement piece of furniture, such as an entry hall. It can be the conversation piece that sets off a home. One couple we have been working with created an alcove in their new home especially for a beautiful antique sideboard. Since the piece is well over 200 years old, they found a spot to keep it out of harm's way yet enjoy seeing it every day and sharing its history with visitors. One day, they can pass it on to their children confident that it will have increased in value because of its quality. On the affordable end, a table that already has a patina of scratches and dents can be perfect for a young family whose children will add their own wear and tear. Vintage dining room furniture is especially reasonable compared to a new purchase and can be easily refinished when the children are a bit older.
Some antiques are perfect candidates for a new paint job. Manufactured pieces were made in large quantities, so even though they may be antique, they are not particularly precious. Once a piece has been evaluated and you are sure it isn't extremely old or hand-hewn, it could be painted. Some antique manufactured furnishings, like golden oak or maple, are unpopular today because of the color and can be bought reasonably and painted. We recommend a professional paint job for a good result. This can be a great solution to using a family antique that no one likes; given the choice between getting rid of a piece or painting it to keep it in the family, the paint starts to seem like a good idea. A dark oak dresser with a coat of fresh white paint can be perfect for a childs room, or extra storage in a bathroom or hall. For an artsy vintage look, go for a splash of color like aqua or apple green. Years from now, someone who inherits the chest may like oak, and they can have it stripped. If this is done professionally no harm is done, and the antique stays in the family for another generation.
These are just a few of the numerous reasons designers are often passionate about antiques. There can be something a bit sterile about bringing a truck full of brand-new furniture to a house and just filling it up. Antiques bring spirit to a home that is much needed in today's fast-changing world. It's been said that we must first give our children roots, then wings. Creating a home that has its own story is part of that process. Antiques give us a sense of permanence not found in the latest room-to-go ensemble. Like a hard-sought prize, they are often the result of a long and memory-filled hunt. And like a beloved family member, once they move in we are loathe to let them go. Every new piece acquired this way contributes to that sense of permanence. It is my great pleasure to imagine a family living in a home I helped create. It's a blessing to be invited briefly into their lives, and in a small way become part of their history and memories by finding unique and quality furnishings, or helping them incorporate inherited pieces in ways they had not imagined. As writer Dominique Browning once said, "it isn't the things that make a home; what makes a home is the loving spirit in which those things are gathered."
Copyright 2009 Kerry Ann Dame. May not be reproduced without permission.
You May Also Like....