WHAT'S YOUR PILLOW STORY? Pillows are like jewelry for your sofa. They are to decorating what shoes are to fashion — it seems you can never have too many! They're one of my favorite elements in a room, because I have such a passion for beautiful fabrics. The right collection of pillows is like the icing on the cake; it's where the homeowner's individuality really comes out. Beautiful pillows are a necessity for the fabric connoisseur. For a designer look, un-decorate your prepackaged room with throw pillows:
Toss the pillows that match your sofa — they're a real waste of pillow real-estate.
Avoid chenille or heavy upholstery fabrics, they just don't make nice pillows.
Use down and feather pillow inserts. They last forever and flatten nicely when you lean against them, so you don't have to move them aside like those stiff polyester ones. They also sit heavily on the furniture which keeps them from tumbling onto the floor.
Abandon the idea that your room is finished when you have three or four fabrics in it. A quick look at any magazine or decorating book makes it apparent that the really fabulous rooms manage to bring five, eight, or even a dozen fabrics into one room. Designers make rooms really unique and interesting by varying the scale and pattern of a collection of fabrics and using them in different quantities. Once the basic selection of furniture and window treatment fabrics has been done, the accent fabrics become very important. Smaller furnishings such as occasional chairs and footstools, or cushions on a window seat, receive fabrics that are complementary to the main fabrics. These accent fabrics are great to use as throw pillows on the furnishings to pull the whole scheme together.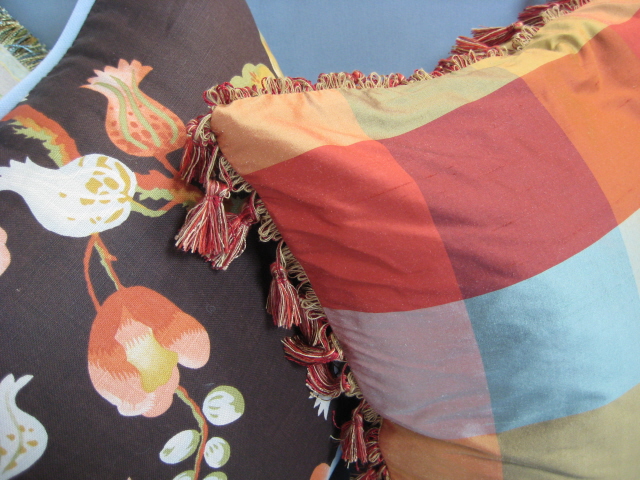 Now comes the fun part — deciding which fabrics are the best accent fabrics. This is where experience matters. Here are some tips for combining lots of fabric patterns into a coherent "pillow story":
Depending on whether you want a cozy or clean look, you'll want 3-5 pillows on your sofa. One is permitted to match another piece of furniture, but that's all!
Start with the window treatments — are they a splashy print? If so, they'll make great sofa pillows if your sofa is rather plain. Add some fluffy fringe for personality.
Next, look to your chairs. If your club or wing chairs are a typical stripe or plaid, that fabric may be nice for a sofa pillow. Just do one, though – you want to "refer" to the chairs, but save some room for pillow creativity.
Now it gets interesting. Take colors from your curtain fabric and use them in a sofa pillow that doesn't match the chairs. For example, if your chairs are a plaid in navy and ivory, and your curtains have many shades of blue, you might try pillows of ivory fabric, with navy and blue mingled fringe, and a big navy button in the middle. You're still color coordinated, but you've broken the mold of the furniture store display!
Make sure that one of the fabrics is made into a pair of pillows — pairs create order, which is important when you are mixing lots of fabrics. But don't have a pair on your sofa made from your club chair fabric, or you'll be back at the furniture showroom.
Next, get creative — let's say for our imaginary room we have curtains with a big abstract flower, in shades of blue, on an ivory ground. Instead of repeating that fabric yet again for chair pillows or ottoman, look for something similar with the colors reversed. How about an ivory vine print embroidered on a blue background? You've brought in a different scale of pattern by using a smaller vine instead of the big floral. And, you've further mixed it up by reversing the colors.
Keep going with the patterns if you have occasional pieces to cover; try a tiny stripe or a tone-on-tone damask in your color scheme, and use that to frame a monogram on a sofa pillow. Use one of the minor colors from your largest print fabric; see if you can find a small-scale design (like a trellis or leaves) in that color alone.
For a European look, add something with a scene on it. Add some floppy bullion fringe to a couple of pillows, and tassels on others. For a sophisticated room, look for luxe fabrics like linen, damask, and silk. Don't be afraid to splurge on a high-end fabric for pillows – you don't need much, so this is your chance to have something that would be out of reach for a larger project. Treat yourself!
If you are going for something clean and modern, concentrate on different textures and have bursts of pattern on pillows against various textured upholstery. Use dressmaker details such as contrasting piping, handmade fabric flanges, center buttons, or blocks of solid colors to develop a "pillow story" that proves modern doesn't have to mean boring!
To keep it together, you'll need something crisp and graphic to give your eye some rest as you look around. A clean wide stripe or silhouette print is ideal for small chair seats or a bench. Use the same fabric for a long pillow in the center of the sofa, and you'll spread that graphic punch all around the room. Use your graphic fabric at least twice to keep up the "orderly" effect. You can use this trick in a traditional or modern room.
Finally, if you have an ottoman, you'll want to keep it calm. We'd use a solid with contrast piping to quietly center the room. Ottomans do not need to match the chairs they came with, but you may wish to have them match if you are doing a more modern room. Modern rooms definitely have that orderly feeling, while traditional and cottage style rooms tend to have a more layered look.
Once you're comfortable with mixing pillow fabrics, you'll find it's fun — a bit like conducting a symphony. Some of the fabrics have all of the colors, some of them have a few of the colors, and some only have one of the colors.
When you get really good at it, you'll find yourself adding a pillow that has none of the colors of the rest of the room but mysteriously looks just right! Perhaps our imaginary blue and ivory room wants a pillow with an acid green Chinese scene, trimmed with blue and green fringe (especially if an adjoining room happens to be green, but that's another story). Our modern room might really be glamorous with just a pop of shiny coral silk. Look across the color wheel for contrasting colors to throw into the mix. And if you're really stuck, that's what designers are for. We can take your ho-hum room and really make it sing. At our shop, we have at least a hundred pillows on any given day, and we are always making new ones. In our mass-produced world, we appreciate handmade things more and more. A pillow collection gives us a chance to enjoy the fabrics, colors and patterns that we love. So, what's your pillow story?
Copyright 2008 Kerry Ann Dame. May not be reproduced without permission.
You May Also Like....