WE LADIES have all had that dreaded conversation at one time or another. You know what we're talking about. We try to avoid it, but it keeps rearing its ugly, overstuffed head. The Recliner. The Man Chair. Nearly every home has one, and nearly every couple has had the same argument: It's ugly! It's comfortable! But I hate looking at it! But everything else in the house looks nice, can't we have just one comfortable chair?
The debate rages on, and it's something we at Posh Living face in nearly every home we design. Some of the newer solutions save space, but we all know that Queen Anne wing chair isn't fooling anyone, and those modern Swedish recliners are just so, well, modern and Swedish. Unless you're living the eclectic loft lifestyle, they stick out like a sore thumb.
What to do? As designers, we specialize in problem-solving and finding just the right furnishings for each client. Recliners are appealing because they are so comfortable. The same level of comfort can often be achieved by choosing upholstered seating that fits the client's needs. When we sell a sofa, we always ask if the client prefers to sit or lie down, if they need support for a bad back,and if they'll be using the piece themselves or if it's primarily for guests. If a man likes to lay flat, the right sofa can work instead of a recliner. There is a big difference in the type of seating you need for an hour's visit versus an all-day football marathon. Often, we'll choose a medium size sofa that is comfortable for most people, and focus on his-and-hers seating for every day use.
First, let's talk about the Man-Chair. Comfort is key. Most men look to the recliner for its comfort and flexibility. They want head support for that post-yardwork nap, and lots of cushioning for watching games or reading. However, when offered other options sometimes a guy will choose a chair and ottoman. Our most popular recliner substitute is our overscaled Brighton wing chair. Its wide seat, fat arms and big wings are perfect for settling in for the afternoon. Add an ottoman and you can relax in a reclined position with your head on the wing and chill out. Because it doesn't recline, it saves space in the room, so it is perfect to tuck into a corner.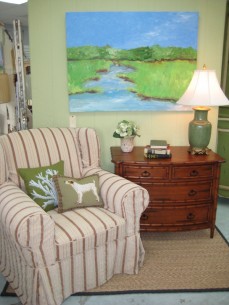 It can be upholstered or slipcovered, and the slipcover is washable, so if you are not a fan of the typical recliner fabrics, like leather or chenille, it provides a wide variety of choices. If the cover becomes worn or stained, it is easy to repair or replace. For a casual home, both men and women love its distinctive, relaxed English cottage style.
If a recliner is truly what is needed, take heart; they are getting better looking all the time! At Posh Living, we like McNeilly-Champion leather recliners. They come in a wide variety of frame styles, and most of them resemble classic club chairs so they really don't look like a recliner at all. Imagine an English style club chair with mahogany feet and casters, or an Art Deco recliner in bomber-brown leather – in other words, a recliner that will be a decorative feature in the room, instead of an eyesore.
The other advantage of a "hidden" recliner is the fact that they take up so much less room; the same level of comfort can be achieved using far less floor space. Without the typical wide, flat arms, a club chair recliner is much smaller. With a wide selection of leather choices, six leg colors, and a large selection of frame styles, we've been able to solve almost any seating problem without a design dilemma. Of course, it has to be seen to be believed, so we are very excited to have one in our showroom. The frame construction is unsurpassed in the industry; the reclining mechanism is smooth and uses no levers – just lean back and the chair goes with you. Needless to say, we are very proud to be a McNeilly-Champion dealer.
Last but not least, we like to address the comfort of the lady of the house as well. Many women are uncomfortable with the overscaled upholstery of today. They want to sit with their feet on the floor and their back against the back cushions, but most sofas are just too deep. It is really important when furniture-shopping to sit on several chairs and sofas to see what best fits you. We are usually concerned with the height of the seat off the floor, and the depth of the seat from front to back. Seat cushions of sofas vary from 18″ high up to 23″, and need to be the right height for those using them. A short person may need an 18″ seat, unless they have long legs. A tall person may not need a high seat cushion, if the sofa is deep enough to sink back into. We ask our clients to sit on several pieces and see what feels right. A higher sofa can be fine for a shorter person if it has soft cushions, but may be too high if it has the firmest spring cushions. Once our client has made her choice, we measure the dimensions of that chair or sofa to choose her custom chair. Many women like to read, knit or scrapbook, so reclining is not as important as sitting comfortably, and we take all of that into account.
As designers, we often become deeply involved in people's lives. It's so rewarding when we receive compliments from clients who ordered custom furnishings. Quality furniture can be hard on your initial budget, but we feel strongly that buying pieces that will last makes sense. Years later, we'll bump into a client and hear how much they still love their chair, room, or house – and we love knowing that we made a difference! Often, a husband and wife will have two entirely different chairs in the same room – leather for him, and something pretty but very comfortable for her. Sometimes, they order his-and-hers matching chairs. As people today are looking to age in place, it is so helpful to have quality furnishings that won't sag, spring cushions that are firm to ease getting up, or even a motorized recliner. It gives us great satisfaction to know that we have designed rooms our client may have for a lifetime, and that we may have ended an ongoing argument once and for all!
Copyright 2009 Kerry Ann Dame. May not be reproduced without permission.
You May Also Like....